Spinning Coin Share New Song "Get High" – Watch HERE
New Album Hyacinth Out This Friday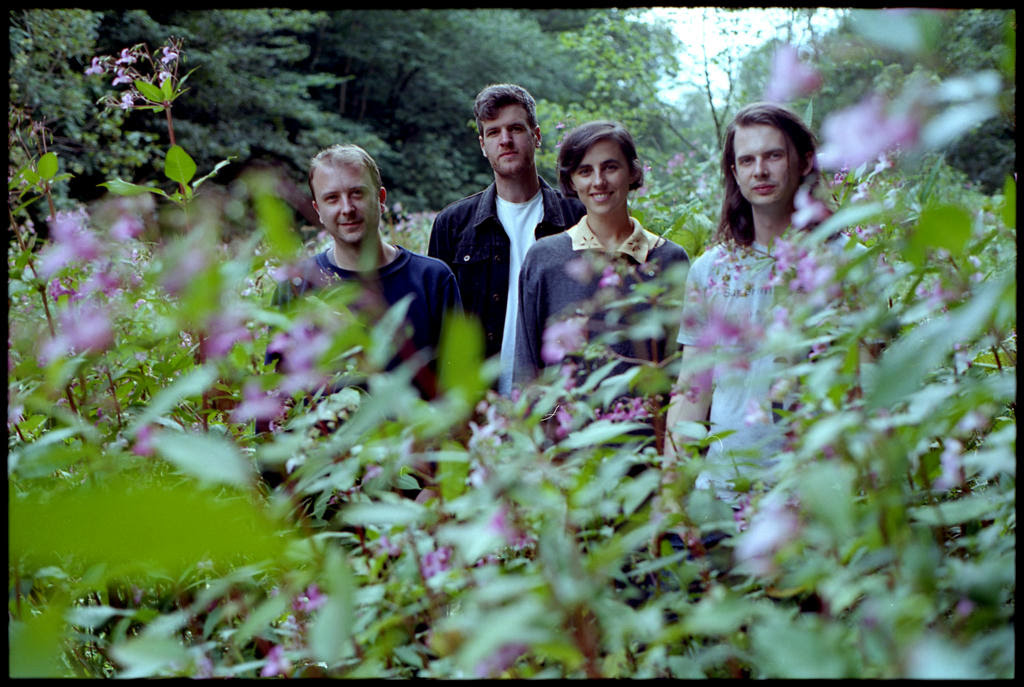 Photo credit: Owen Godbert
Praise for Spinning Coin:
"loose and playful" BROOKLYN VEGAN
"Sound of Young Scotland" Mojo 4*
"They evoke the majesty of the late Pete Shelley" Q
"The tapestry of the album is woven from summer-of-love psychedelia and sequinned guitars, it's impossible to ignore its raw nerve" DIY
Ahead of the release of their second album, Hyacinth, out this Friday, Spinning Coin share new song "Get High".
Jack Mellin, one of Spinning Coin's three songwriters, on the track:
"Get High is about the absurdity of life, and the contradictions we often make. When I notice how different I feel from moment to moment and realize I don't really know what I'm doing, I might be constantly looking for amusement and contentment, but what could provide that keeps changing. Not realizing the good feeling till it's gone, or enjoying something in the moment then regretting it later. Trying to act on instinct and intuition but being unable to trust it. Being high is different for everyone but we all try to get high!"
Watch the video for "Get High" HERE
Stream "Get High" HERE
Hyacinth is an album full of poetry, light and warmth of heart, and presents a band holding nothing back. It registers a number of changes for the group since their debut LP Permo in 2017: personnel changes, geographical changes, a new context, an ever-changing world outside. The quartet both lost and gained a member, with Cal Donnelly exiting the group, and Rachel Taylor joining. Taylor and Armstrong have relocated, leaving Glasgow for Berlin – Rachel, from Canada, had no choice but to leave the UK, and Sean followed her.
Throughout Hyacinth, there is joy in spades, but also melancholy, and a checked fury, threading the group's political vision through their reflections on the personal and the interpersonal. Jack Mellin explains that the new songs "are about the need for love in an often very unloving world. Trying to find a balance of some kind between feelings of apathy, negativity, detachment and action, positivity and oneness." Whilst Mellin's songs were more pointedly political on Permo, here he has built more complexity into his writing. Elsewhere, Taylor contributes her first song to a Spinning Coin release, in the form of the beautiful "Black Cat".
Listen to previously shared tracks "Feel You More Than World Right Now" and "Ghosting".
Spinning Coin are Sean Armstrong (vocals, guitar), Jack Mellin (vocals, guitar), Rachel Taylor (bass, vocals, keyboards) and Chris White (drums).
For information on Spinning Coin's upcoming European tour, check out: https://spinningcoin.net/
—
Hyacinth is available to pre-order on deluxe LP (yellow vinyl), LP, CD and digitally.
Pre-order: Dom Mart | Digital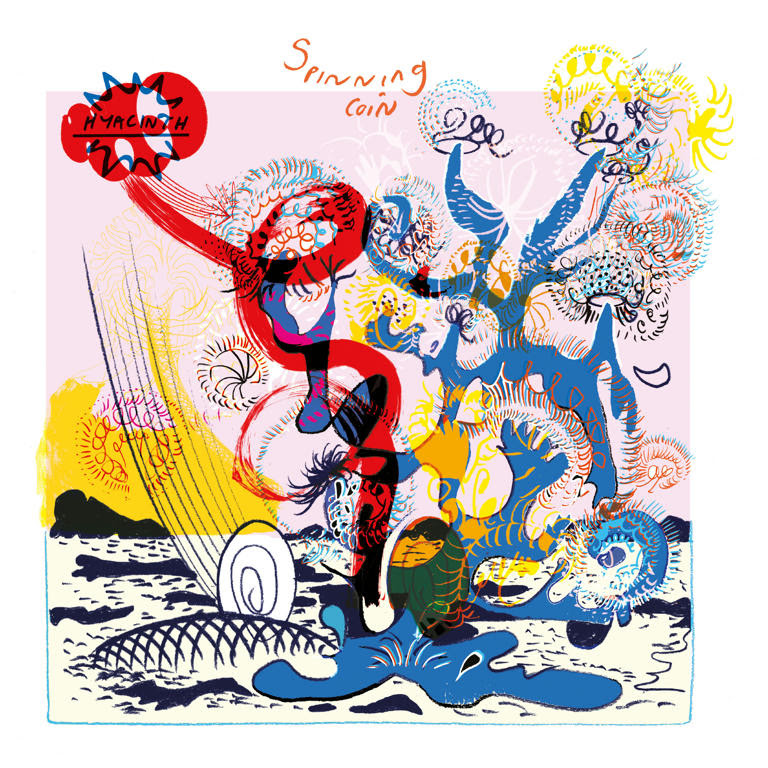 Album artwork by Rob Churm
Hyacinth Tracklisting:
Avenues of Spring
Feel You More Than World Right Now
Get High
The Long Heights
Despotic Sway
Ghosting
Laughing Ways
Black Cat
Soul Trader
Never Enough
Slips Away
It's Alright
Thing Of The Past
Spinning Coin Online
Website | Facebook | Twitter | Instagram